Hard Core Crop Challenge #13
"SCORE IT WITH CORE!"
Welcome to the very FIRST Hard Core Crop!
We are so excited that you joined us.
Each Design Team Member, plus a few guest designers, will be hosting challenges on their blogs and giving away a pack of Core'dinations Cardstock. For full Crop details please see the Core Blog here (insert link). Interested in a Guest Designer spot?! Learn how you could design for Core for the next three months here (insert same link)!
All entries must be linked using Mr. Linky to this blog post by July 22nd, 2012 at midnight EST. Cards and layouts are both welcome just make sure you follow the guidelines below.
My challenge to you today is a technique one.
It's all about
SCORING
!!!
Here are your quidelines:
1.
Create a layout/card using Core'dinations Colorcore cardstock that incorporates
THREE
different types of
scored lines/designs
. *
2.
Also create
ONE embellishment
that involves scoring.
3.
Post your submission(s) at the bottom of this post using the link tool.
*Hints: There's a variety of ways that you can use scored lines (such as straight lines, diagonal lines, faux stitching, etc.). Embellishments can include tags that have been scored around the edges, accordian style flowers, etc... And remember you ALWAYS score on the backside of the cardstock (the non-textured side).
Also, ... when you are scoring you don't have to have a scoring board to make scored lines. You can also do this simply by running a stylus tool (or scoring tool/bone folder) up & down the cutting channel of your paper trimmer.
Here's a look at the layout I created for this challenge.
Supplies used: Core'dinations (Tim Holtz Kraft Core, Sand It Gadget, Dust Buddy); heart punch (McGill), Imaginisce (i-rock tool and Glam Rocks); My Little Shoebox (alpha stickers); flower & heart shape punches (Fiskars); Border punch ( bracket - Ek Success)
I scored a border around the background cardstock; then created a block design with different scored lines on each piece of cardstock. Some were just straight up & down, other lines were diagonal and some were 'stitched'.
I also created embellishment by punching out some flower shapes and then scoring lines across the flower from point to point.
I then punched out some small stars and again scored lines from point to point all the way around the star shape. I gently folded the stars to give them some dimension and depth and adhered them with foam squares.
I love using the Tim Holtz Kraft Core because the colors are so rich & warm. Another fabulous way to use this cardstock is to flip it over to the kraft color side and print your journaling on it as I did on my layout. Because the base of the colored cardstock is kraft colored the journaling block matches perfectly!
So how would you like to win a pack of Tim Holtz Kraft Core Cardstock??!!!
Well, you can!
All you have to do is create a project for my challenge using the Guidelines that I listed above. Then use the link below and post your creation here on my blog. Remember you MUST use Core'dinations cardstock in order to be eligible.
I can't wait to see what you create!
And here's a blinkie that you can use on your own blogs, facebook pages, etc.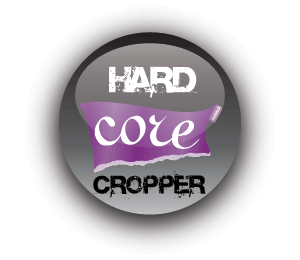 If you've ever want to be Guest Designer for Core'dinations now is your chance!!!
Click HERE and you can read the Core' blog post with more details on that.
Here's the blog post (
CLICK HERE
) with all the rules & information about the Core' Crop!